RED ROOSTER OVERLAPPING FLOORING WILL NOT DETERIORATE OR HARBOR BACTERIA LIKE WOODEN SLATS

Red Rooster Plastic Slats are a world class broiler breeder floor (and Suelos para Perreras) that is manufactured in the United States but distributed worldwide. With over 30 years of proven global performance, Double L Overlapping Plastic Slats are a very durable, cost effective, bacteria resistant, long lasting floor that was designed to replace wood and wire slats in poultry houses. Red Rooster Slat Flooring creates the proper environment for your birds to develop to their genetic potential for outstanding production.
Wood slats are prone to drying, cracking, and breaking – resulting in breast blisters and foot injuries. Since wood slats are narrow and irregularly spaced, the bird's feet often fall between the slat, causing foot pad and hock injuries. Wood slats also harbor bacteria, causing infectious diseases and mortality. Unlike wood slats, Red Rooster Overlapping MKII Slat Floors do not deteriorate or need to be replaced after each flock of birds. Double L plastic slats have never had reports of bumble feet, breast blisters, wood slivers, or foot pad / hock injuries. Used with success under birds of all sizes from little chick to large chickens, Red Rooster Broiler Breeder Plastic Slats are a stable structure for walking with minimal sag.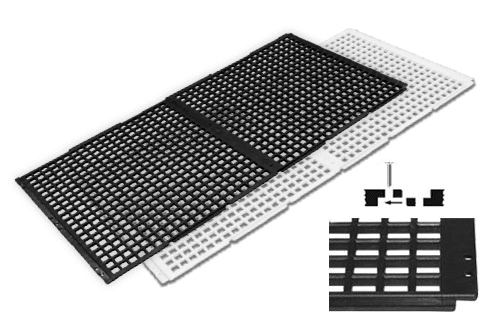 WHITE – Part 13502
BLACK – Part 13501
23.94″ x 48.63″ x .5″
608 x 1,235 x 13 mm
252 pieces / pallet
6 pieces / bundle
1/2″ thickness
Approx. Wt:
8 lbs / 4 kg
2-YEAR WARRANTY

Red Rooster Overlapping Flooring is constructed of no break polypropylene, which is more durable and has more impact resistance than regular polypropylene. Each slat is easy to power wash clean with approximately 55% manure filtration. Neutral polypropylene does not absorb body heat from birds and improves production rates.
Easily installed on 2 x 4″ or 2 x 6″ wooden supports, Red Rooster flooring can be cut to specific sizes. Reinforced pre-molded screw holes allow for fast assembly of slats to frame.
The OL Red Rooster® Flooring's plastic construction is corrosion-resistant and has the ability to have both 4′ sides of panel interlock for added strength. Each of the 2′ ends of panel overlap (OL). Double L's MKII Overlapping (OL) Red Rooster® Flooring only needs supports every 24″. The overlapping style slat is usually used for large continuous floors that will not be moved.
Cleanability

Red Rooster Overlapping Slat Flooring has a smooth, non-porous surface that is easy to clean and disinfect. It has been proven that eggs laid on square openings, regardless of surface area, were significantly cleaner than eggs laid on wooden slats.

50% Open Area

Permits excellent manure filtration with minimum manure buildup for a clean, sanitary environment.

Plastic Construction

Each Red Rooster OL slat is non-corrosive and will not harbor bacteria, rot, rust, or absorb water like wooden slats. Red Rooster Flooring has a smooth, non-porous surface that provides a stable, comfortable platform for birds. Unlike wood floors, the birds are protected from breast blisters, leg problems, slivers, foot pad and hock injuries. OL slat flooring is available in white or black color, with the black slat flooring UV protected.

Durability

The solid structure of Red Rooster® means stability. It has been used with success under birds of all sizes – from little chick to large chicken! It is a stable structure for walking with minimal sag.

Reduction of Breast Blistering and Slivers

No reports of breast blistering on birds housed on Red Rooster Flooring – no chance of wooden slivers ever!

Reduction of Foot Problems

Unlike wire mesh floors, there are no reported problems with bumble foot on Red Rooster – just solid, comfortable footing for the birds.

Efficiency

Neutral polypropylene does not absorb body heat from the birds. Improved production rates mean faster weight gains with better feed conversions.
poultry window 8 RetroAire Inlet decrease air or water leakage Custom sizes available
Learn
Made in the USA EcoDrive 300 Designed for expansion and contraction Perimeter gasket system to ensure a good seal between glass and outer frame to improve house tightness and Red Rooster Overlapping Flooring decrease air or water leakage 8 RetroAire Inlet EcoDrive 300 Red Rooster Overlapping Flooring Designed for expansion and contraction Improves poultry house tightness and decreases air or water leakage Heavy-duty multi-walled construction of the panels offer high thermal resistance, giving excellent thermal insulating values while still allowing natural light to enter the house Perimeter gasket system to ensure a good seal between glass and outer frame to improve house tightness and decrease air or water leakage Custom sizes available 8 RetroAire Inlet Perimeter gasket system to ensure a good seal between glass and outer frame to improve house tightness and decrease air or water leakage Custom sizes available EcoDrive 300 Made in the USA Designed for expansion and contraction Poultry Division inlets Poultry Division inlets
Learn
Poultry Division inlets