JDP2600 2-Way Insulated Inlet

JDP2600 Fully Insulated 2-Way Ceiling Inlets are great for minimum to maximum ventilation when you need precise control of air movement. The JDP2600 Attic Inlet insulated lids direct air along ceiling for proper air mixing instead of allowing cold air to fall directly on animals. It is constructed of a single piece, fully insulated rotomolded housing frame with 1″ thick fully insulated lids to minimize condensation, dripping, and inlet freeze-up. Each JDP2600 2-Way Inlet has two frictionless Styrofoam PVC covered insulated lids on a continuous PVC hinge that swings down to allow clean attic air into the main room. When 2-Way Vent insulated lids are closed, the inlet is fully sealed against air leakage and light. The JDP2600 Vent is available in Gravity or Actuated Style Poultry Inlets.
The JDP2600 Gravity Vent counterweight lids open automatically as the static pressure increases in the building and can be shutoff when not needed. The JDP2600 Actuated Attic Vents open and close with an actuator machine. The JDP2600 Attic Inlets can withstand harsh agricultural environments and extreme cold weather conditions
.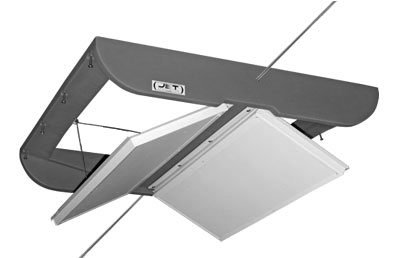 Actuated Inlet Part 90838 
Approx. 2,490 cfm @ 0.05 SP
BESS Labs Test #05181
Ship Weight: 13 lbs
30 inlets / pallet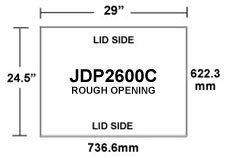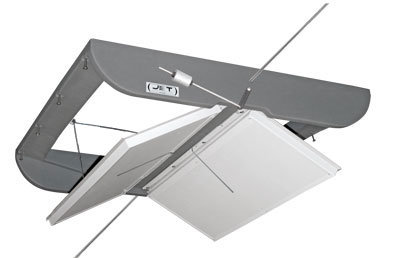 Inlet Part 90838 with gravity kit
Approx. 2,135 cfm @ 0.05 SP
BESS Labs Test #05097
Ship Weight: 13 lbs
30 inlets / pallet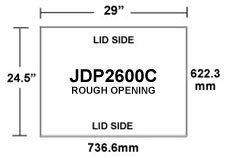 poultry window 8 RetroAire Inlet decrease air or water leakage Custom sizes available
Learn
Made in the USA EcoDrive 300 Designed for expansion and contraction Perimeter gasket system to ensure a good seal between glass and outer frame to improve house tightness and decrease air or water leakage 8 RetroAire Inlet EcoDrive 300 Designed for expansion and contraction Improves poultry house tightness and decreases air or water leakage Heavy-duty multi-walled construction of the panels offer high thermal resistance, giving excellent thermal insulating values while still allowing natural light to enter the house Perimeter gasket system to ensure a good seal between glass and outer frame to improve house tightness and decrease air or water leakage Custom sizes available 8 RetroAire Inlet Perimeter gasket system to ensure a good seal between glass and outer frame to improve house tightness and decrease air or water leakage Custom sizes available EcoDrive 300 Made in the USA Designed for expansion and contraction Poultry Division inlets Poultry Division inlets
Learn
Poultry Division inlets