DL3232 Insulated Air Inlet Designed to Fit Standard Filter Boxes
The DL3232 Insulated Air Inlet has aerodynamic, curved insulated blades that direct attic air along the hog barn ceiling for the most efficient air mixing inlet on the market. Its square design promotes precision air movement during minimum ventilation by using a smaller opening, increasing the nozzle effect and air jet throw of the entering air. Smaller openings promote increased velocity of air entering the room, resulting in better air distribution and mixing. Engineered to allow maximum cfm's to be achieved in full-open position.
The DL3232 Swine Inlet rough opening is designed to fit standard filter boxes in the swine industry. Inlet can be single or double pull and is customizable for your hog operation.
When the DL3232 Swine Air Inlet is in the shut-off position, it has been proven to seal up better for reduced fuel usage and have minimal air leakage compared to the competition in the industry.
The DL3232 Inlet Housing and blades are constructed of virgin PVC for durability to withstand power washing yet fully insulated to reduce condensation. All mounting hardware is included and comes pre-installed on the inlets for ease of installation.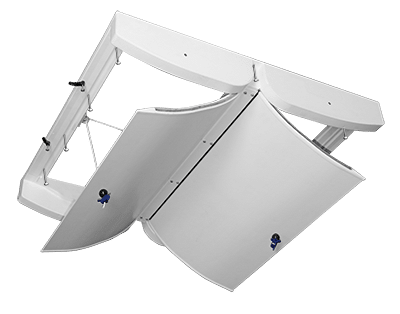 امریکی پیٹنٹ نمبر 10,638,719
DL3232 Insulated
Attic Air Swine Inlet
Part 90302P
Approx. 4,144 cfm @ 0.10 SP
Ship Weight: 18 lbs
Framed Opening: 28" x 28"
ACTUATED ONLY