RECESSED TRI-CREEP/CAST FARROWING FLOOR
Recessed Tri-Creep ValuCast Farrowing Floor Has One of the Cleanest Creep Floors on the Market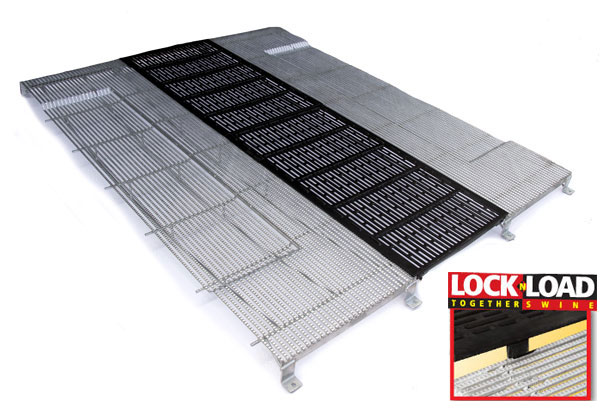 The cleanest creep slat on the market, the Recessed Tri-Creep Valucast Farrowing Floor has triangular tri-bar or V-shaped steel bars with 50% openings that allow manure to easily filter into the hog pit. Easily pressure wash clean the top and bottom of creep floor from the top in both directions without having to turn over floor to clean the bottom side of creep slat. Constructed of corrosion-resistant, hot-dipped galvanized steel bars and durable ValuCast cast iron flooring, our TV57 Tri-Bar ValuCast Farrowing Floor is an excellent combination hygienic all-steel cast farrowing floor.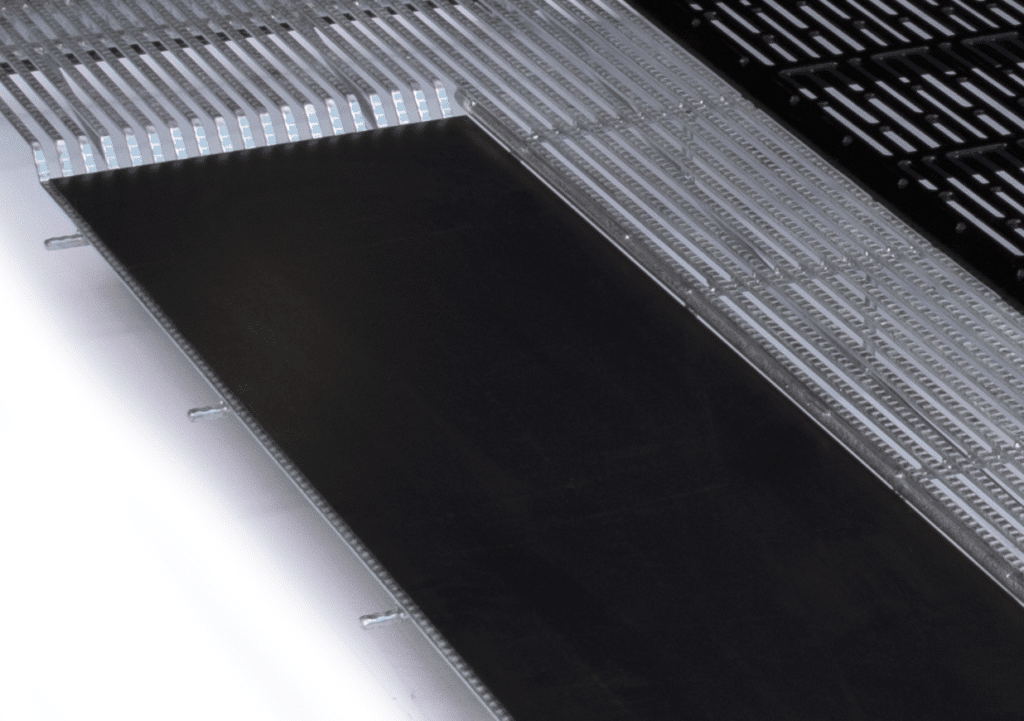 R

ecessed area fits heat mat perfectly plus provides a space for piglets & reduces crushing

 

Farrowing floor with Lock-n-Load assembly

 

Self-supporting combination farrowing floor

 
Corrosion-resistant hot dip galvanized steel

 

The cleanest creep floor

 

 

Easy to install and power wash clean

 

50% opening in creep area to readily filter manure

 

High / low design for excellent traction and stability

 
Tri-bar is mig welded (4 times stronger than resistance welding)

 

V-shaped bars easily filter manure into hog pit

 

Creep sections can be made in various sizes to create size floor need

 

Custom sizes available to match your existing layout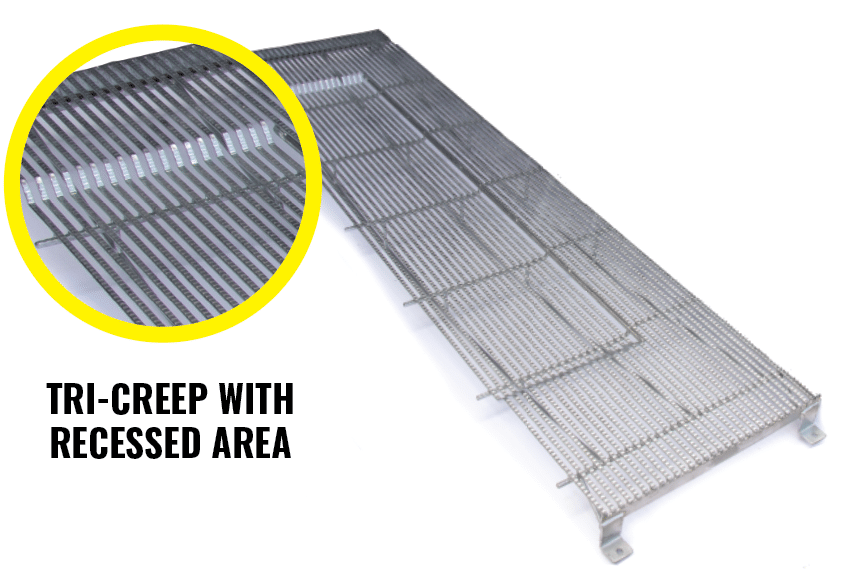 Creep slat sections are non-porous – meaning bacteria cannot live in galvanized steel and does not hold disease. The dimpled steel tri-bar creep surface design creates extra traction for the little pigs to easily get up and down. Raised end supports allow for better cleaning into the pit area.
The tri-bar steel is mig welded, which is 4 times stronger than resistance welding and is built to withstand the constant movement and heavy weight of pigs. Resistance welding is known to have breakage in the welding points within a few years. The tri-bar creep area can be made in various sizes to create the desired size floor you need.
ValuCast cast iron floor tabs easily drop into place, combining the cast and tri-bar floors. The cast iron will lay on top and easily interlock into the creep panels, ensuring all parts stay together and won't separate or spread. ValuCast cast iron is cool under the sow in warm farrowing rooms and its high / low design provides excellent traction and stability for the sow – minimizing possible teat and foot damage, slipping, or other injuries.
Since cast iron surface is preferred by sows and the creep area is preferred by the little pig, pigs tend to spend most of their time on the warmer surface, thus resulting in fewer crush deaths. Producers have reported they save at least one pig per litter from a crush death with combination cast / creep floors, making it a very cost effective option.
Lastly, the Recessed Tri-bar ValuCast Farrowing Floor is designed as a self-supporting construction – no frames or supports needed. Simply install the floor to the concrete wall in farrowing barn. The, with easy lock-n-load assembly, insert ValuCast Floor into self supporting creep sections. The Recessed Tri-bar ValuCast Farrowing Floor is easy to install and power wash clean. To recap, the Recessed Tri-Bar ValuCast Farrowing Floor is an excellent all steel cast combination self-supporting farrowing floor with very hygienic attributes.
poultry window 8 RetroAire Inlet decrease air or water leakage Custom sizes available
Learn
Made in the USA Designed for expansion and contraction Perimeter gasket system to ensure a good seal between glass and outer frame to improve house tightness and decrease air or water leakage 8 RetroAire Inlet Designed for expansion and contraction Improves poultry house tightness and decreases air or water leakage Heavy-duty multi-walled construction of the panels offer high thermal resistance, giving excellent thermal insulating values while still allowing natural light to enter the house Perimeter gasket system to ensure a good seal between glass and outer frame to improve house tightness and decrease air or water leakage Custom sizes available 8 RetroAire Inlet Perimeter gasket system to ensure a good seal between glass and outer frame to improve house tightness and decrease air or water leakage Custom sizes available Made in the USA Designed for expansion and contraction Poultry Division inlets Poultry Division inlets
Learn
Poultry Division inlets