TJP1355LT TopJet Gravity Wall Inlets
TJP poultry inlets feature patented counterbalance louvers that open from the top instead of the bottom. TJP Inlet air is directed towards the peak of the chicken house, utilizing the heat collected at the poultry house peak. The use of TJP wall air Inlets eliminate curtain and baffle pulley and cable management required with traditional winter inlet systems.
The TJP1355LT, TJP1365LT, TJP1375LT TJP poultry inlets consist of a complete poultry inlet with housing and light trap. This wall air inlet is designed with a weighted counterbalance louver that opens from the top instead of the bottom. This directs air along the ceiling and holds air up longer while mixing with room air. Minimal air restriction from the light trap.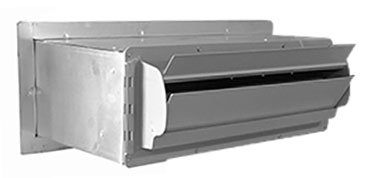 TJP1355LT – Part 90750
TJP1365LT – Part 90751
TJP1355LT opens at .055 SP
TJP1365LT opens at .065 SP
TJP1375LT opens at .075 SP
Ship Weight: Approx. 19 lbs. per inlet

poultry window 8 RetroAire Inlet decrease air or water leakage Custom sizes available
Learn
Made in the USA EcoDrive 300 Designed for expansion and contraction Perimeter gasket system to ensure a good seal between glass and outer frame to improve house tightness and decrease air or water leakage TJP1355LT TopJet Gravity Wall Inlets 8 RetroAire Inlet EcoDrive 300 Designed for expansion and contraction Improves poultry house tightness and decreases air or water leakage Heavy-duty multi-walled construction of the panels offer high thermal resistance, giving excellent thermal insulating values while still allowing natural light to enter the house TJP1355LT TopJet Gravity Wall Inlets Perimeter gasket system to ensure a good seal between glass and outer frame to improve house tightness and decrease air or water leakage Custom sizes available 8 RetroAire Inlet Perimeter gasket system to ensure a good seal between glass and outer frame to improve house tightness and decrease air or water leakage Custom sizes available EcoDrive 300 Made in the USA Designed for expansion and contraction Poultry Division inlets Poultry Division inlets
Learn
Poultry Division inlets