Ideal for new construction or as replacement shutters, Double L's easy to snap together PVC Fan Shutters are constructed of heavy-duty, non-corrosive PVC that handles even the harshest of environments. Custom-made to specifications, Double L's snap together PVC Fan Shutter is low maintenance, can withstand heavy pressure washing, and is simple to repair. All parts are replaceable. Fully tested as described by the Air Movement and Control Association, Double L's Custom Snap Together PVC Fan Shutters are manufactured to ISO9001 standards.
Double L PVC Fan Shutters have the option of being custom made with connecting tie bars that add up to 8% more performance at .05 static pressure. Connecting bars also eliminate shutter flutter – blades flying up and locking open.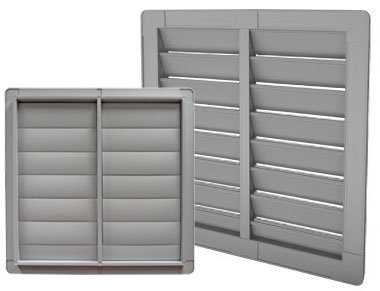 DIFFERENT SIZES AVAILABLE –
CAN CUSTOM BUILD TO FIT!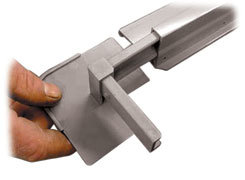 Formed (not welded) corners give
PVC Fan Shutter extra strength and durability

OTHER PRODUCTS YOU MAY BE INTERESTED IN:
poultry window 8 RetroAire Inlet decrease air or water leakage Custom sizes available
Learn
Made in the USA Designed for expansion and contraction Perimeter gasket system to ensure a good seal between glass and outer frame to improve house tightness and decrease air or water leakage 8 RetroAire Inlet Designed for expansion and contraction Improves poultry house tightness and decreases air or water leakage Heavy-duty multi-walled construction of the panels offer high thermal resistance, giving excellent thermal insulating values while still allowing natural light to enter the house Perimeter gasket system to ensure a good seal between glass and outer frame to improve house tightness and decrease air or water leakage Custom sizes available 8 RetroAire Inlet Perimeter gasket system to ensure a good seal between glass and outer frame to improve house tightness and decrease air or water leakage Custom sizes available Made in the USA Designed for expansion and contraction Poultry Division inlets Poultry Division inlets
Learn
Poultry Division inlets