Double L's Two-Way 30" x 36" Sorting Panel was specifically designed to address biosecurity issues while moving hogs with ease. Constructed of high-density polyethylene, the SP30x36 Panel is a lightweight yet extremely tough and durable solid hog sorting panel with no seams to harbor bacteria. 1 1/4" flared edges on perimeter prevent panels from falling into the pit. Comfortable, rounded hand grips allow for easy handling. Easy to clean.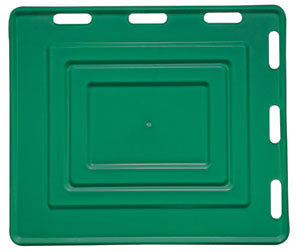 30" x 36" Two-Way
Solid Sorting Panel
SP30x36
Part 16460
30" x 36"(762mm x 914.4mm)
Ship Wt: 9.3 lbs. ( 4.2 kg.)
Hog operations using sorting panels that are not biosecure are hollow with seams that crack and split open (see red sorting panel below). This allows panel to harbor bacteria and diseases, resulting in illnesses and poor production.