EX3415 Insulated Inlet is Designed for
Cold Weather – No Inlet Freeze-up

Double L's EX3415 Insulated Inlet is an excellent wall inlet for cold weather climates.
The EX3415 Insulated Inlet is constructed of high-quality polyurethane foam with a curved louver blade. Designed for cold weather climates, it has a high insulation value reducing chance of inlet freeze-up. It also has tight seals on EX3415 housing and louver blade. The EX3415 offers a relatively high capacity in the fully open position.
The EX3415 has a strong skin that is highly resistant to outer forces.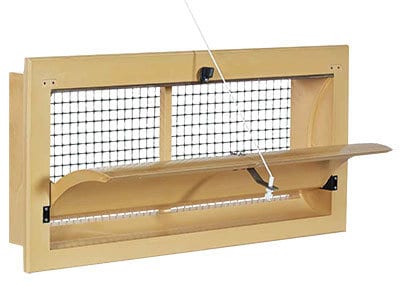 EX3415 Insulated Wall Air Inlet

Part 90655
Approx. 2,950 cfm @ .125 SP
Framed Opening: 34.25″ x 15″
Actual Inlet Size: 37″ x 18″
Ship Weight: 8.3 lbs / 3.7 kg
28 inlets / pallet
14 inlets / box