TJ4200 TopJet 4-Way Ceiling Air Inlet
The patented design of the TJ4200 TopJet Ceiling Air Hog Inlet is engineered to allow more CFM through inlet than a C2000 inlet. The TJ4200 Ceiling Air Inlet operates at higher static pressure for better air mixing. The following are some features of the TJ4200 TopJet Swine Ceiling Air Inlet:
Revolutionary, patented design, maximized Jet Technology provides a better mixing of fresh intake air with the hog room and distributes air evenly from one inlet to another, gently mixing air without creating a draft for your pigs
Four directional louvers direct air along the ceiling and hold the air up longer while mixing with room air and distributing it evenly
Creates less draft and chilling for better air mixing
Snap-together design allows for minimal work site waste
TJ4200 Gravity Flow
Ceiling Air Inlet
Part 90640
Approx. 1,812 cfm @ .125 SP
Ship Weight: 14.5 lbs / 6.6 kg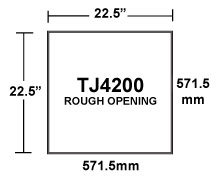 TJ4200 Gravity Ceiling Inlet Benefits
All season 4-way Directional Inlet Provides Uniform Air Distribution
Helps maintain higher ventilation rates during cold weather without sacrificing
hog barn temperature or wasting fuel
Simple to assemble and requires no tools - simply snap three sides together, insert the bottom channel and snap the fourth side in place to complete the inlet
50% FASTER FRAMING WITH THE FAST FRAME
The Fast Frame consists of a plastic outside frame with a wooden inside frame that provides a clean, professional installation with no exposed lumber. This frame accommodates the TJ4200, C2200, AC3010, and GC1140 inlets.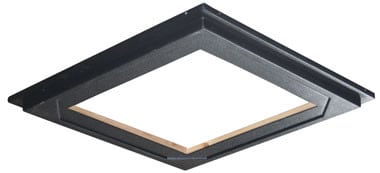 Part 90620
Overall Dimensions: 32" x 32"
Framed Opening: 22.5" x 22.5"