AC3010 ACTUATED 360º INSULATED CEILING INLET DESIGNED FOR COLD CLIMATE CONDITIONS
From ease of installation to performance, the AC3010 Actuated 360º Insulated Ceiling Air Inlet is proving to be an exceptional swine inlet. Designed for cold weather climates, the AC3010 360º Foam Insulated Inlet has a very tight rubber seal and minimal moisture build-up.
Correcting shortcomings of air distribution, the AC3010 Actuated Inlet has no blades to break, fall out, or get stuck open or closed. Air enters AC3010 machine actuated inlet from attic and is evenly distributed in all four directions into the hog barn. The air travels along the ceiling instead of falling directly onto the pigs. The AC3010 Actuated Inlet gently mixes air without creating a draft resulting in even temperatures throughout entire room.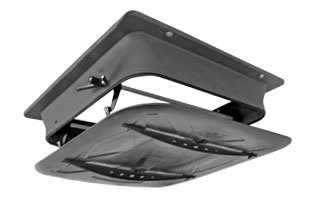 U.S. PATENT NO. 9,445,574
MADE IN CANADA
AC3010 Actuated Insulated Foam 360º Ceiling Air Inlet
Part 90671
Approx. 2,149 cfm @ .125 SP
Ship Weight: 9 lbs / 4.08 kg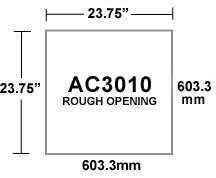 Benefits of the AC3010 Actuated Ceiling Inlet
Improved air distribution and mixing, thereby reducing drafty and chilly conditions
Improved overall temperature uniformity - better air distribution and air mixing
An obvious reduction in humidity accompanied by noticeably drier conditions
50% FASTER FRAMING WITH THE FAST FRAME
The Fast Frame consists of a plastic outside frame with a wooden inside frame that provides a clean, professional installation with no exposed lumber. This frame accommodates the AC3010, GC1140, C2200, and TJ4200 inlets.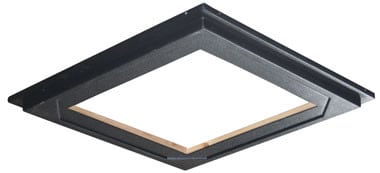 Part 90620
Overall Dimensions: 32" x 32"
Framed Opening: 22.5" x 22.5"